Ok, I know. I've missed four days in a row of blog posts. Funny how that happens when your off hours on the week of Christmas are consumed with trying to get all the holiday shopping done, seeing family, etc. Hard to even fit in having a beer. But I'm a trooper. I soldiered on. The beer must be had.
So today's I'll catch up the last four days.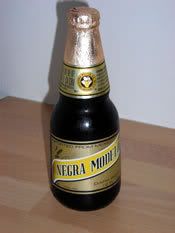 Monday's Brew: Negra Modelo
Negra Modelo is classified as a Munich-style dunkel by the brewery, Mexico's Groupo Modelo. But it's not. It's much more a Vienna-style lager. It is darker and more flavorful that many Mexican beers, but it has the same high carbonation characteristic as all the others. Not to knock that, though, since Mexican beer was my first introduction to anything other than Bud or Coors. And when you're elbow deep in some spicy pork green chile, nothing hits the spot like a Negra Modelo.
Tuesday's Brew: Blue Moon Brewing - Winter Abbey Ale
I'm not a fan at all of Blue Moon wheat beer - this brewery's flagship beer and the one that's far-and-away the most popular of their offerings. But their seasonal offerings are some of the best coming out of any Colorado brewery. And of those seasonals, Winter Abbey Ale is my favorite. It does some wheat, but features a hearty dose of roasted malts and a hint of Belgian sugar. It's gives off rich caramel and toffee notes, but is balanced nicely and finishes very smooth. One of my favorite winter beers.
Wednesday's Brew: Sapporo Premium - Sapporo Brewery
Dinner out with family at a Japanese hibachi restaurant. One beer on tap - Sapporo. So, Sapporo it is.
It's very unremarkable - the Japanese equivalent of Bud or Coors. But it pairs well with spicy tuna roll and the sauce-laden foods grilled on the hibachi, so it's all good.
Thursday's Brew: Samuel Adams Octoberfest
Thursday night featured a long (4 hours!) game of Just Dance 2 on the Wii. Searching for something to enjoy, I found a Sam Adams Octoberfest hiding in the back of the fridge. I know it's Christmas-time, but any season is good for this wonderful beer. Five variety of malted barley, balanced by Bavarian Noble hops. This beer has a chocolate/toffee flavor, but is not too rich, and finishes incredibly smooth. I love it. Anytime, anywhere.
Monday's Cue: Hellogoodbye - When We First Met
This band has been re-tooled since their last album and it's big hit "Here (In Your Arms)."
This song is a different sound for the band, as it the entire album,
Would It Kill You?
, but very good nonetheless.
Tuesday's Cue: OK Go - End Love
OK Go's latest disc,
Of The Colour Of The Blue Sky
, is in my Top 10 albums of the year. This is one of several great tracks off that album. And it true OK Go fashion, the video is very creative and fun to watch.
Wednesday's Cue: My Chemical Romance - The Kids From Yesterday
Another in my Top 10 of '10. Poppy, catchy, with plenty of attitude and angst. Great rock 'n' roll.
Thursday's Cue: Sarah McLachlan - Song For A Winter's Night
Whether or not this is actually a holiday song is up for debate, but it's one of my favorites at this time of year. From my favorite artist of all time. 'Nuff said.
Cheers!